Outsource Full Life Cycle Recruitment
KTRIAN's end-to-end full life cycle RPO solution covers your 360 recruiting needs of talent acquisition lifecycle.
Full Life Cycle Recruitment
Outsource your complete recruiting life cycle for customized staffing support. Our comprehensive full life cycle recruitment provides US based staffing firms the required scalability and agility. We look into every aspect, from research, sourcing, screening, building qualified talent pool, interviewing, negotiating, pre-employment checks, to conducting placements and onboarding. KTRIAN specializes in accelerating the delivery efficiency, prioritizing your profitability and driving bottom line growth for businesses of all sizes and industries. Our bespoke full cycle recruiting solution is designed with required tools, technology and resources to optimize time to hire, cost to hire and quality of hire.
KTRIAN's Full Life Cycle Recruitment Process For US Based Staffing Firm - Our Approach
Our advanced 360 recruiting approach incorporates actionable market data, organization mapping, recruitment strategy for hiring managers and precisely defining every step of the recruiting cycle. Engage with industry-specialized virtual recruiters from India for a streamlined recruitment process and improved candidate experience.
KTRIAN's team of sourcing specialists, recruiters and hiring strategists enables us to deliver full cycle recruitment solutions for your client's organizations internationally. Our global footprint in providing talent across major industries such as IT, Engineering, Education, Industrial, Telecom and more makes us the premium choice as the 360 RPO solutions offshore partner for the US staffing agencies.
Benefits
Why KTRIAN As Your Offshore Solutions Partner For Full Life Cycle Recruitment?
Looking to partner with a reliable and trusted RPO service provider to outsource your recruiting needs?
We would like to connect with you, learn about the requirements and contribute to the success
We've delivered an array of customized solutions to staffing firms across the US and EU. Some of the many case studies that signifies our expertise.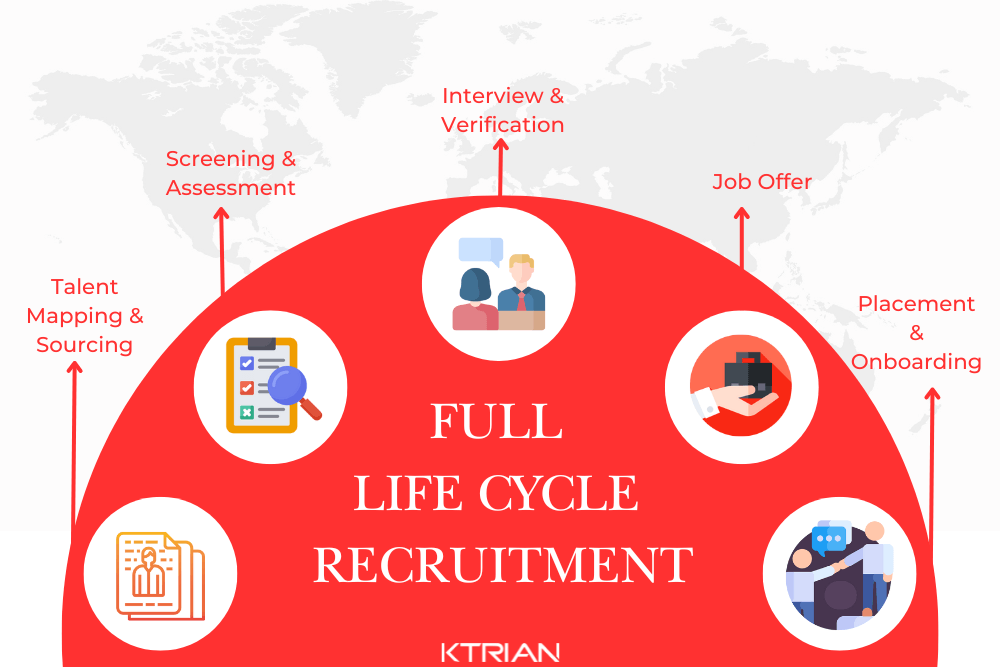 KTRIAN Delivered Full Cycle Recruitment Service For A U.S. Based Staffing Firm Hiring Highly Technical Roles In The Eastern European Market.
KTRIAN Delivered Full Cycle Recruitment Service For A U.S. Based Staffing Firm Hiring Highly Technical Roles In The Eastern European Market.
Explore A Spectrum Of Recruitment Process Services KTRIAN Offers
Resume Sourcing & Screening
Proficient with the latest sourcing tools and technology, our offshore sourcing service assists you to get access to perfectly matched resumes from all major job boards and social mediums. Build a highly skilled candidate pool with screened resumes for the required volume without incurring extra costs.
Outsource your high-volume recruitment demands to attain faster turnaround time with KTRIAN's MSP/VMS solutions. Our MSP/VMS recruiters possess expertise in various and wide range of vendor management tools to deliver quick and quality submittals. We have proven experience in achieving SLA requirements.
Executive Search & Headhunting
Our executive search and headhunting offering is the perfect solution for staffing firms to fill confidential and sensitive senior-level positions. Offering complete discretion, we approach active and passive candidates to widen the pool and find the right match. KTRIAN's professional team of headhunters fulfill a high level of dedication to meet the critical needs of executive hiring.