Top 5 Reasons Why You Should Choose Offshore Recruitment Process Outsourcing (RPO)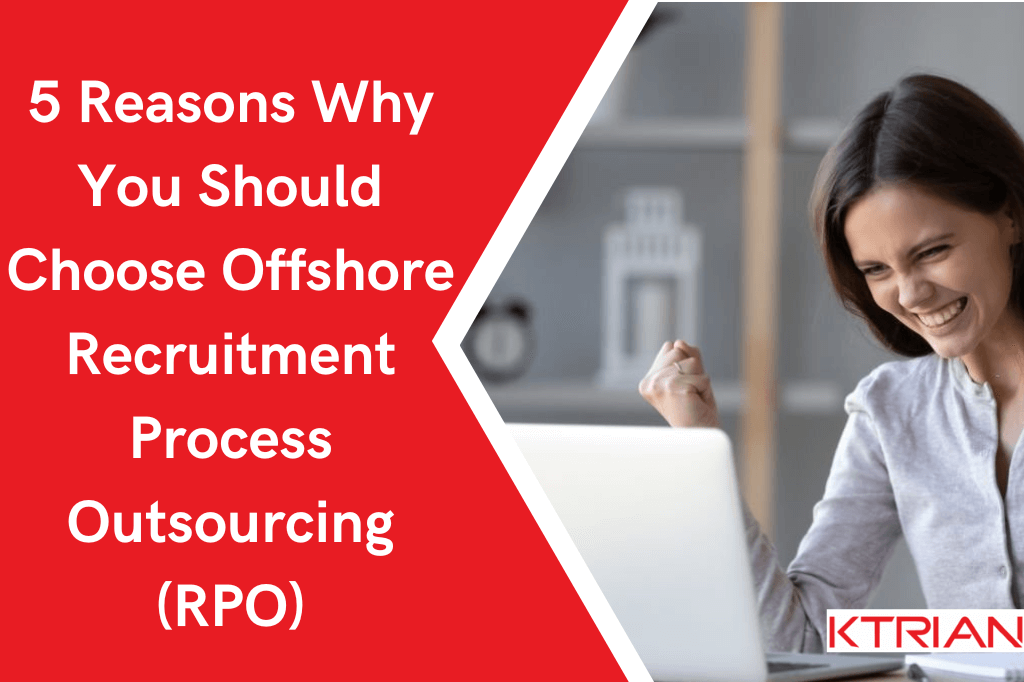 Introduction
Offshore recruitment process outsourcing, provides a number of benefits over traditional business practices like hiring local candidates.
Hiring locally is very beneficial for small businesses. but talent may not always be accessible for organizations managing larger operations or projects that call for highly qualified people. You need the appropriate workforce to be accessible at the appropriate moment to respond to changing business needs if you want to grow your company in a global market. This is an area where offshore recruitment offers enormous benefits.
If you can find the candidate but you feel the talent gaps constantly and need to hold up your requirements, then you need not worry about it. because KTRIAN offshore RPO services will help you find the right talent for your organization. This blog details the top five reasons to choose offshore RPO. but let's first understand the offshore RPO properly.
What is Offshore Recruitment Process Outsourcing?
Offshore Recruitment Process Outsourcing (Offshore RPO) is the practice of contracting with a company to find and recruit candidates to fill jobs in your company. It is an effective way to support your organization's high volume of recruitment needs or firm's growth. 
You can choose to offshore all aspects of the recruitment process or just the ones you need. An international, diversified pool of qualified individuals is available from offshore recruitment process outsourcing firms. The most recent trends in sectors including healthcare, banking and finance, education, and consulting are well-understood by these companies.
KTRIAN is a reputable and well-known offshore recruitment process outsourcing service provider that collaborates with IT consulting companies of all kinds and staffing agencies of all sizes to provide a broad range of recruitment and talent acquisition support.
5 Reasons Why You Should Choose Offshore Recruitment
1. Develop a more powerful employer brand in the target areas
Outsourcing the hiring process offers access to a global talent pool that is diverse and multicultural. They can develop a deep understanding of the new and latest trends in any particular industry, like IT, healthcare, banking, education, and consulting.
They are able to provide you with access to talent that you would not otherwise have access to because they are aware of the variations in hiring practices between different countries. Finally, by working with an experienced offshore RPO partner, you will have access to tools that will significantly enhance your employer brand in the areas you have in mind.
2. Expertise and Specialization
Recruitment is a complex process that requires specialized skills and knowledge. Offshore RPO providers are recruitment experts who possess extensive experience in sourcing, screening, and selecting top talent. They employ industry best practices, advanced tools, and cutting-edge technology to streamline the recruitment process, improving efficiency and effectiveness. By partnering with offshore RPO providers, organizations can leverage their expertise and focus on core business functions.
3. Reduce recruitment investment by 40%–60%
Many businesses are choosing outsourcing and offshore recruitment process outsourcing as a way to reduce expenses, avoid paying for expensive office space, make the most of their limited human resources, and access talent throughout the world. Companies have been able to cut their overhead costs by up to 60% by outsourcing their recruitment processes to offshore locations with the proper partner.
Having access to overseas talent is another strong benefit. It gives businesses the chance to collaborate with people from all backgrounds and viewpoints.
4. Upscale or Downscale Recruiting Team Based Offshore on Business Needs
You must work with an offshore recruiter staff that can adjust to changing needs. When your company has occasional spurts of growth, hiring a full-time recruiting team might not be the ideal choice. Instead, one might be more effective for you.
For instance, if you recruit 10 individuals per month, but you require more than 50 people to handle the level of work during the busiest four months. Without a strong presence in offshore regions, finding labour fast and ramping up at short notice is extremely difficult. Select a business for offshore recruitment that can satisfactorily handle such needs.
5. Increase Time to Hire for Offshore Staffing by Up to 70%
You can find it challenging to maintain the rate of growth when your organization is expanding. In fact, when your firm is growing at such a rapid rate, there's a strong probability that you'll experience times when it's difficult to hire enough qualified staff to keep things moving forward.
Many firms struggle to locate qualified employees quickly enough to maintain and expand their company in today's cutthroat industry. Because they can reduce the time to hire by as much as 70%, recruitment process outsourcing, or RPO, is extremely important.
Conclusion
An offshore recruitment process outsourcing is very important for businesses to remain competitive.
KTRIAN Solutions Pvt. Ltd. provides offshore RPO services, and it's also beneficial for those companies and businesses that are looking to expand their businesses into new markets and grow without any excess pressure. We provide different types of recruitment services like end-to-end recruitment, resume sourcing services, c-level recruitment services etc.
Finding ways to invest in your business and your employees is crucial, in our opinion. Contact us at any time if you have questions about the offshore RPO procedure.