RPO Emerging Trends: A Look at the Future of Talent Acquisition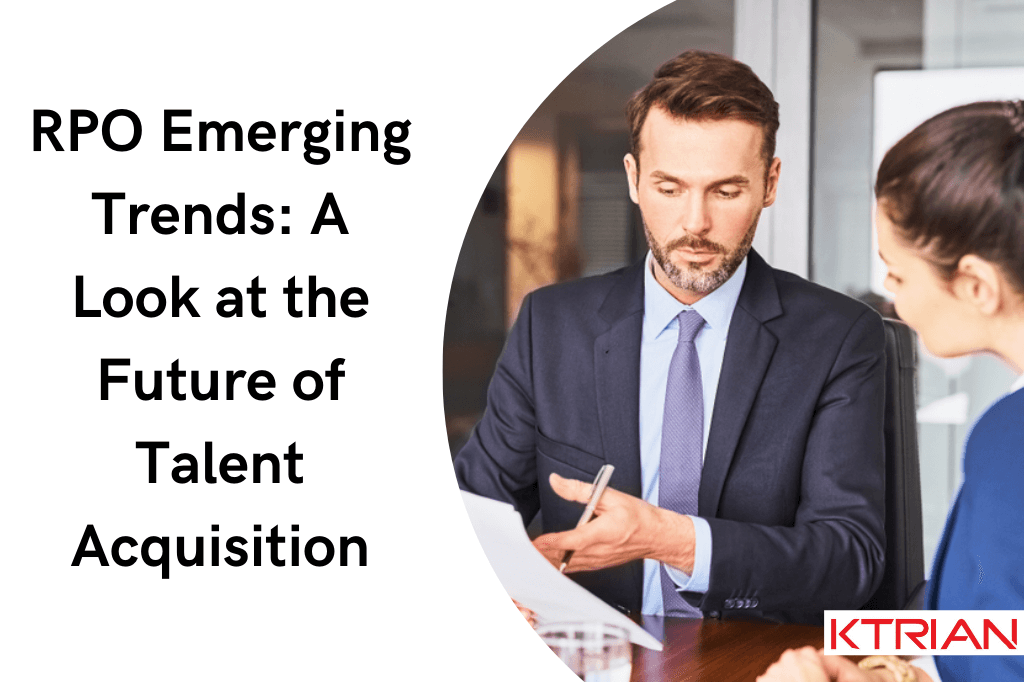 Businesses are continuing to change at a rapid rate as of 2023, and the talent acquisition industry is no exception.
Organizations must keep up with trends in candidate expectations, workforce dynamics, and technology to remain competitive in their recruitment efforts.
In this blog, we will examine the future of talent acquisition and the newest trends in Recruitment Process Outsourcing (RPO).
The creative methods, cutting-edge technologies, and forward-thinking strategies that are changing how firms attract, engage, and retain elite employees may be learned about by examining these trends.
Innovative Hiring Techniques Using Technology
Globally, next-generation technologies have changed the game for recruiters. The recruiting sector has tapped into the power of cutting-edge and tried-and-true technologies to improve their procedures as a result of the growth of Software-as-a-Service (SaaS) businesses.
Recruiters have adopted these technologies as their trusted friends in the pursuit of attracting and hiring top talent, from the global applicant tracking systems (ATS) that automate candidate handling to the enormous variety of job boards and websites.
Recruiters may quickly sift through a huge number of applications, accurately evaluate candidates' qualifications, and ultimately make the best recruiting choices by utilising the capabilities of these next-generation tools.
These technological developments have unquestionably transformed the recruiting industry and established them as crucial resources for businesses looking to hire the most brilliant people.
Increased Candidate Care in Recruitment
Candidate care, which focuses on giving job searchers outstanding and personalised experiences, is growing as a significant trend in the recruiting market.
This pattern emphasises the significance of treating applicants as unique individuals, respecting their time, and making sure that communication is timely and clear. Organisations may improve their employer brands and build deeper relationships with potential employees by putting candidate care first.
This pattern highlights the importance of prompt feedback, respectful and sympathetic involvement, and prompt resolution of candidate issues. The increased emphasis on candidate care is altering the industry as the recruiting environment changes, putting applicants at the centre of the procedure and providing a great experience throughout their journey.
RPO has revolutionized remote hiring and onboarding
The incorporation of Recruitment Process Outsourcing (RPO) services has further revolutionized remote hiring and onboarding trends in the recruitment business. In order to improve and streamline the remote hiring and onboarding processes, RPO providers apply their knowledge in utilizing technology and best practices.
RPO partners help businesses navigate the difficulties of remote recruitment with the help of their in-depth knowledge and experience, providing a smooth and effective experience for both candidates and employers.
Organisations may acquire top talent from different regions by utilising a global talent pool that transcends geographic boundaries. RPO suppliers provide a full range of virtual recruiting solutions, such as remote candidate sourcing, video interviewing, and virtual assessment tools, facilitating quick and successful hiring of qualified candidates.
Experience in Global Recruiting
Organisations are realising the enormous value of recruiting talent from around the world as the world becomes more connected. This trend analyses global talent markets and broadens the scope of standard recruitment tactics.
The international recruiting expertise of RPOs not only helps organisations access new markets and a plethora of various skills and perspectives, but it also fosters cross-cultural collaboration and creativity.
Conclusion:
The way that businesses find, hire, and keep talent is being revolutionized by new trends in the recruiting sector.
One significant factor is emerging as organisations work to comprehend the constantly shifting talent landscape: KTRIAN Solutions.
KTRIAN Solutions is assisting companies in modernizing and effectively improving their workforce thanks to its forward-thinking methodology.
KTRIAN Solutions employs next-generation technology, embraces remote hiring and onboarding practices, and harnesses the potential of a global recruitment experience by fusing international expertise with local understanding. We work with organisations to overcome talent supply constraints, promote diversity and inclusion, and optimize recruitment strategies thanks to our extensive awareness of industry trends.
KTRIAN Solutions acts as a strategic partner, enabling organisations to remain ahead of the competition and create high-performing teams on a global level in this fast-paced period where talent acquisition is essential for success.
Where talent shortages and evolving trends keep businesses on their toes, partnering with KTRIAN Solutions is like having a secret weapon in your hiring arsenal – it's like having a unicorn with a GPS!