Which CEO Hiring Selection Criteria and Interviewing Process is Best?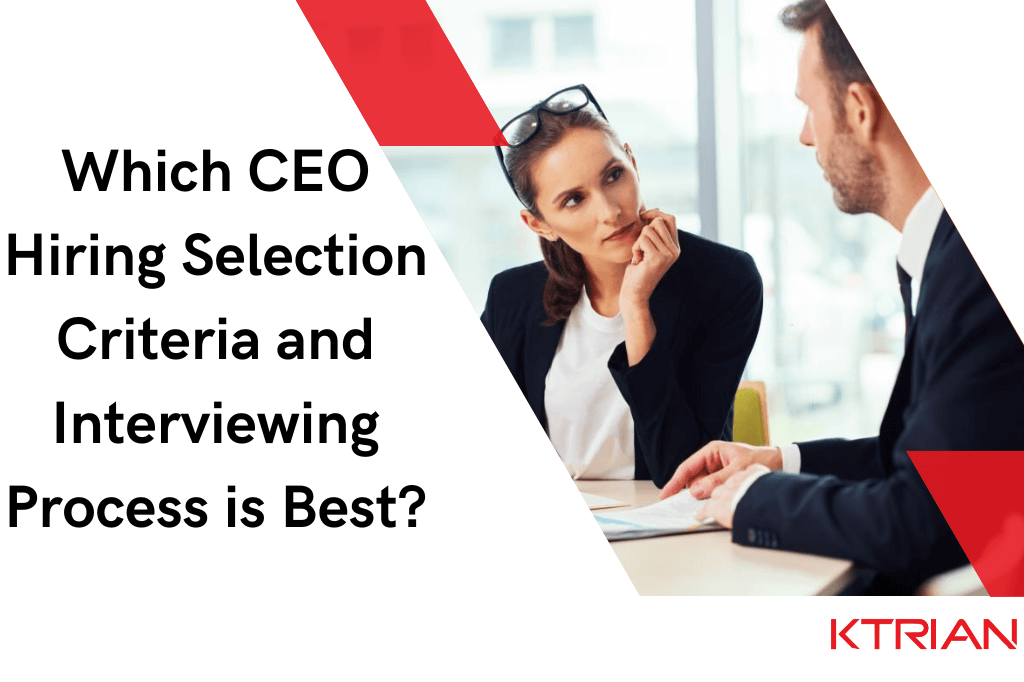 A company's CEO can make or break it. They are never remunerated by any other board member for their strategic insight, mentoring, and coaching of senior members, as well as for making significant high-level decisions. It is a demanding job that needs commitment and astute judgment. Inadequate CEO recruitment selection criteria could have a disastrous impact on the company. Examples from the recent past, such as Yahoo's entire past ten years or Apple's situation prior to Jobs' return for a second term, demonstrate how powerful CEOs can be in positioning the company for success. Because of this, the organization must hire a CEO who is the best fit, and any mistakes come at a high cost. Prior to the CEO selection process, it is critical to define the fundamental qualifications needed for the position in order to make the best choice. This blog provides excellent insights into structuring the CEO selection process and hiring criteria.
Thinking about hiring a CEO? Five Desirable Characteristics to Note
A corporation considers the skills that are essential to their business demands and circumstances when listing the CEO search and CEO recruitment requirements. The CEO search and selection criteria of the majority of businesses share certain characteristics and traits. A CEO must possess a few critical, irreplaceable traits that no one else in the organization can fill. These characteristics motivate the CEO to move the business ahead.
Enabler:
CEOs should facilitate the smooth implementation of risky initiatives. They should operate as a motivational factor for other senior members, inspiring and motivating them to move forward and acting as a catalyst for the company's overall success.
Achiever: 
It should go without saying that for someone to be at this level in the hierarchy, they must have made the necessary advancements. If CEOs are selected to such high positions, they should have established some credibility via their prior work.
Critical And Strategic Thinker:
CEOs are in charge of making the most significant and high-level choices for the business, which call for critical thinking abilities and a plan based on market research. This ability cannot be undervalued in a competent CEO hiring process.
Innovator:
The only businesses that can thrive in the current competitive market are those that have a creative streak. The company's fortunes can alter as a result of innovative, new, audacious, and daring ideas and goods. Such creative thinking would be necessary for CEOs to fully commit to the job.
Visionary:
A calculated mind that projects far into the future can help the business withstand the most difficult circumstances through its insight. CEOs will need to be better equipped to deal with the economy's increased unpredictability in the wake of the pandemic. A real visionary will plan ahead, be well-prepared, and make calculations to manage the ever-changing corporate landscape.
When selecting a CEO, boards carefully consider five factors
Industry Knowledge
CEOs typically come from a variety of backgrounds in business. Due to their greater awareness of the market, executives who have more industry expertise are better able to steer the company ahead. Experience is more than just a statistic, like the duration of a professional's employment. When selecting the best CEO candidates, it's important to look beyond numbers at the candidate's decision-making skills and performance in both successful and unsuccessful scenarios. A wide range of experience also guarantees that they are adaptable and ready for potential future opportunities and industry expansions, should the business desire it.
Product, solution, business, and market knowledge
A CEO should be knowledgeable about the goals the organization is pursuing. Does he have any knowledge of the goods and services the business offers? Does he have a solid grasp of the industry surrounding those products? Does he understand the complex marketplaces where the product is sold? What remedies can he offer to help people make better decisions? Before hiring a CEO, you should ask the following questions. The CEO may be able to work more effectively from the start if they are already familiar with these topics. Find out if the CEO candidates you've chosen are capable of spotting important issues, coming up with solutions, and developing the products and services the business is known for. Can they develop marketing strategies as well as effectively manage the company's finances and expenses with help from other team members like the CFO. When a CEO responds quickly and effectively to issues, together with his wisdom and insight, the company might undergo significant change. 
Operations, client acquisition, growth, and expansion expertise and accomplishments
More experience leads to expertise, which can help the CEO gain some dexterity in running the business. As was previously mentioned, having greater professional expertise across a range of industries helps guarantee future expansions in other industries without any leadership gap. While the CEO should have experience running day-to-day operations, he or she should also be focused on the company's ongoing expansion and growth rather than being satisfied with it in its current form. The most important component of any company's growth is client acquisition, hence the CEO should concentrate on coming up with improved client acquisition techniques to increase the customer base.
Technology, transformation, innovation, and change management experience
In the current situation of the globe, especially given how unstable the economy has been recently, a CEO with an open mind is an absolute necessity. Quick answers from these businesses have been essential to creating profit in recent years. Companies with good leadership and open minds have been quick to change attention from less profitable projects to more successful ones. CEO recruiting consultants must find individuals that are inventive in their approaches and confident in utilizing modern technologies to its utmost potential. He or she ought to be able to modify the overall management and be knowledgeable about how to do so thanks to experience.
Style Of Leadership And Culture Fit
A terrible CEO is frequently not one who lacks competence but rather one who struggles to integrate leadership styles that are appropriate for the organization, creating a chasm between the organization and the leadership. For a company to operate well, its employees must fit into the culture. Leadership approaches should be appropriate and consistent with the long-term objectives and missions of the organization.
The Best CEO Executive Search Agency Consultation When Hiring A CEO
Improved Talent Access
Since we have access to a big database of qualified personnel of all kinds, good search companies like ours may significantly impact your CEO recruiting process. We have a team solely devoted to hiring senior-level personnel, and we tap into a global talent pool via our networks to do so.
Shortlisting Quickly After Search:
Our effective search and hiring procedures guarantee quick shortlisting of applicants while also guaranteeing quality. We simultaneously promise ease, quickness, and quality.
Better Attraction And Engagement Of Talent:
Many nations and important regions, including the US, Canada, the UK, the EU, and India, are where we conduct business. This gives us better access to talent and the abilities needed for effective engagement.
Enhancing the Candidate Experience:
Candidates are put through rigorous and fair testing, and our clients are fully informed at every step. We attach to best practices, retaining the interest of outstanding CEO prospects to contemplate the CEO job in your firm and to gain a wonderful understanding of your organization and interaction with important people of your company.
Conclusion:
Working with a recruitment firm can be quite beneficial for choosing a CEO because of their experience, knowledge, and management. Numerous factors and skills must be taken into account throughout the CEO recruitment process because it has the potential to drastically alter the business.
Contact us now for more information about the CEO recruitment.